Passion. That's the common attribute of those who work for Community Action.
Chief Executive Officer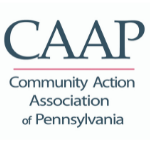 The CEO, in conjunction with Pennsylvania's CAAs, assesses significant statewide barriers to ameliorating poverty, and recommends strategies, services, and resources to enhance the local CAAs capabilities and capacities to address poverty issues. The CEO works closely with the Board of Directors in developing and implementing CAAP's strategic plan and regularly informs the Board about the organization's progress. (posted 7/12/21)
The CEO will be primarily responsible for providing training and technical assistance to CAAs with an end goal of assisting those agencies in assessing community needs, increasing community collaborations, and increasing local agencies' capacity to deliver on the promise of community action.   Responsibilities also include supporting the implementation of federal Community Services Block Grant (CSBG) Organizational Standards and the performance management system ROMA (Results Oriented Management and Accountability).
For inquiries, nominations and applications after reading both documents, please contact:
Catharine McGeever, Managing Partner
610-924-9100 · cfmcgeever@lambertassoc.com
Leaders in Executive Search for Nonprofit Organizations
Lambert & Associates
222 S Manoa Road, Suite 201 · Havertown, PA  19083 · 610-924-9100
www.lambertassoc.com