Results Oriented Management and Accountability (ROMA)
Introduction To The ROMA Training Course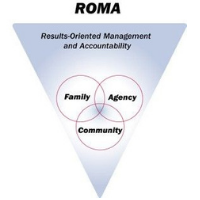 The Basic Course
The basic course for staff is now being offered virtually in three half-day sessions over about a ten-day period. Agencies or staff interested in receiving the training may sign up on the Intro to ROMA Registration Form.
The Format
We believe this format will work for the reasons that:
ROMA Trainers (NCRTs) do not need to travel to an agency site, so the agency realizes no travel costs.
The available NCRTs are not limited to those located just within an hour or two, allowing more options, including out-of-state trainers, therefore more possibilities.
Workflow will not be interrupted for a whole day. You can divide your staff into groups that make sense and not stop work at your agency for one day to have staff receive the ROMA training.
Course Information
Each class will have 15 trainees (20 if from one agency). Registering less than 15 staff is also okay. We hope to be able to provide training for new staff across the state more quickly this way.  The course consists of three 3-hour sessions.
Scheduling and Questions
After an agency submits names, a team of NCRTs will reach out to coordinate dates and times. If an agency does not hear from someone within 10 days of submitting names on this form, please contact Dan.  If you have any technical questions regarding this form, please contact Leslie for assistance. Please be patient as we implement this system and keep in mind that NCRTS are employed by other CAAs who allow the NCRTs time to do this but also need the NCRT to do the activities for which they are hired.