2021 Webinar Series Information for Members
Read The Full Details For 2021 Webinars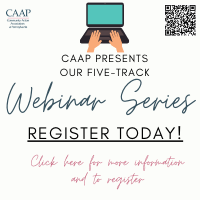 The five tracks include:
management,
governance,
fiscal,
human resources,
and diversity, equity, and inclusion.
The management track is designed for CEOs/Executive Directors, as well as emerging leaders within organizations. However, leadership skills apply to everyone. We encourage you to join us for these events regardless of your title or position.
The governance track is designed for board members, though we often see agency leaders attend these events
The fiscal track is specific to CAA finance and policy issues. A lawyer leads the human resources track to go over the rules of the law and best practices when it comes to employee management.
The diversity, equity, and inclusion track is designed with everyone in mind. The webinars in this track examine critical social issues plaguing communities today and discuss solutions specific to Community Action Agencies.
---
Advanced registration is required.
Please visit the webinar landing page, which includes speakers, topics, and registration links for each month. You can register for multiple webinars at a time. You will receive email reminders before the event, including the link to the event. You will also find a list of topics for the series below.