What CAAP Stands For
Affordable Housing (Click For More)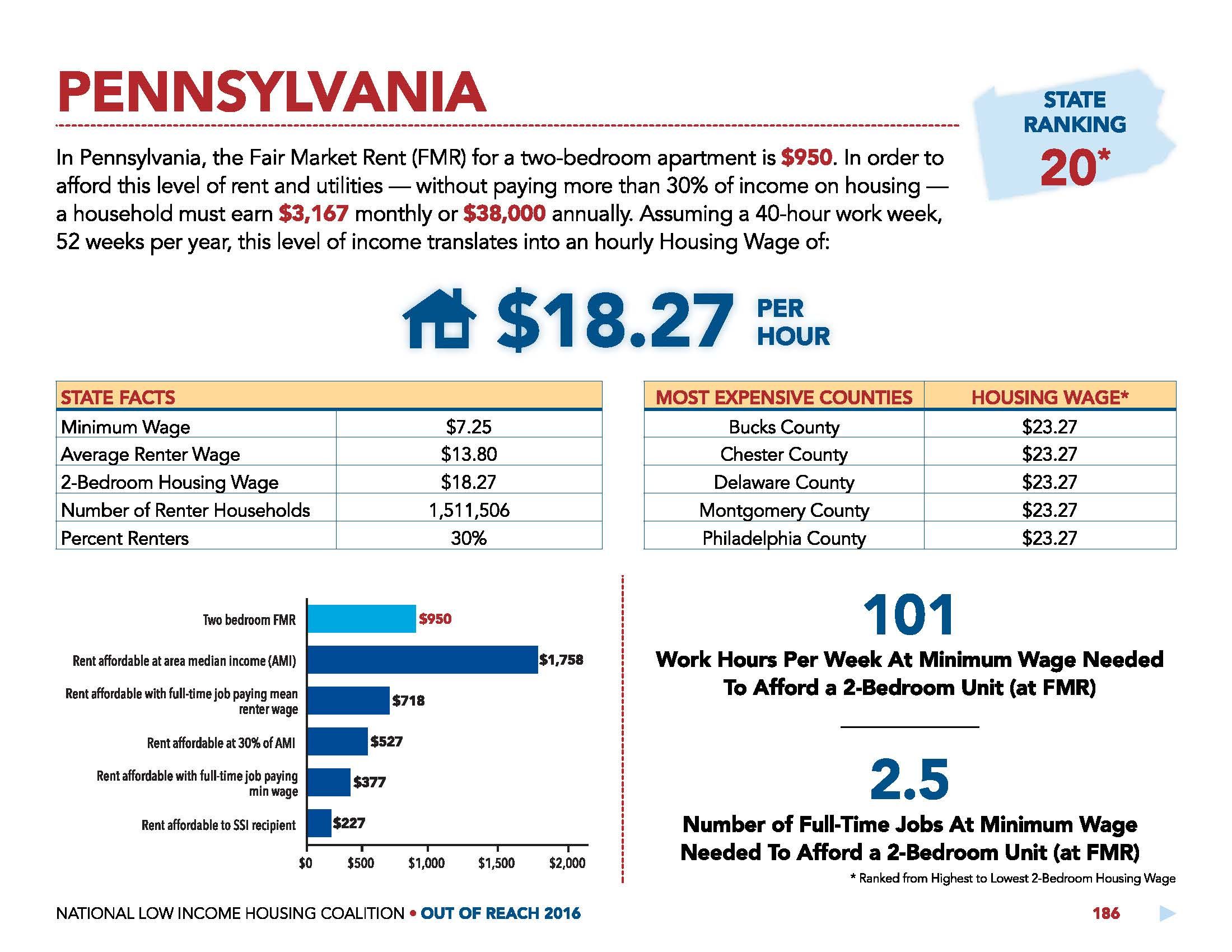 In Pennsylvania, the 2020 Fair Market Rent (FMR) for a two-bedroom apartment is $1000. In order to afford this level of rent and utilities — without paying more than 30% of income on housing — a household must earn $3,332 monthly or $39,992 annually. Assuming a 40-hour work week, 52 weeks per year, this level of income translates into an hourly Housing Wage of: $19.23 per hour.
The State's Minimum Wage is $7.25
Average Renter Wage is $15.90
2-Bedroom Housing Wage is $19.23
Number of Renter Households is 1,557,665
Percent Renters are 31%
In order to afford a 2-bedroom unit at fair market rent, a household will need to work 106 hours per week at minimum wage. Therefore, a household in PA will need 2.5 full-time jobs at minimum wage in order to afford a 2-bedroom unit.
The most expensive counties in PA to live in are Camden-Philadelphia-Wilmington counties where the hourly wage needed to afford a 2-bedroom unit needs to be $23.58, as well as Pike County needing $24.88.
Read the full 2020 Out Of Reach report by the National Low Income Housing Coalition
CAAP supports the resources and efforts provided by the PA Housing Finance Agency (PHFA). The Pennsylvania Housing Finance Agency works to provide affordable homeownership and rental apartment options for senior adults, low- and moderate-income families, and people with special housing needs. Through its carefully managed mortgage programs and investments in multifamily housing developments, PHFA also promotes economic development across the state.  
Since its creation by the legislature in 1972, PHFA has generated more than $14.8 billion of funding for more than 179,850 single-family home mortgage loans, helped fund the construction of 138,000 rental units, distributed more than $121 million to support local housing initiatives, and saved the homes of more than 50,400 families from foreclosure. PHFA programs and operations are funded primarily by the sale of securities and from fees paid by program users, not by public tax dollars. The Agency is governed by a 14-member board. * These figures were last updated on Sep 14, 2020.
PHFA is a state-affiliated agency. Our employees do not participate in the state pension program and do not participate in the Commonwealth's employee benefit programs. PHFA's programs and operations are funded through the income we generate through investment activity, through program fees and through financing programs. As a mission-driven agency providing affordable housing products to the citizens of the Commonwealth, we offer programs and administer funds on behalf of state, federal government, and tax related programs and we receive fees to deliver these programs.
More information about PHFA can be found at www.phfa.org.