Stacey and Eugene Van Buskirk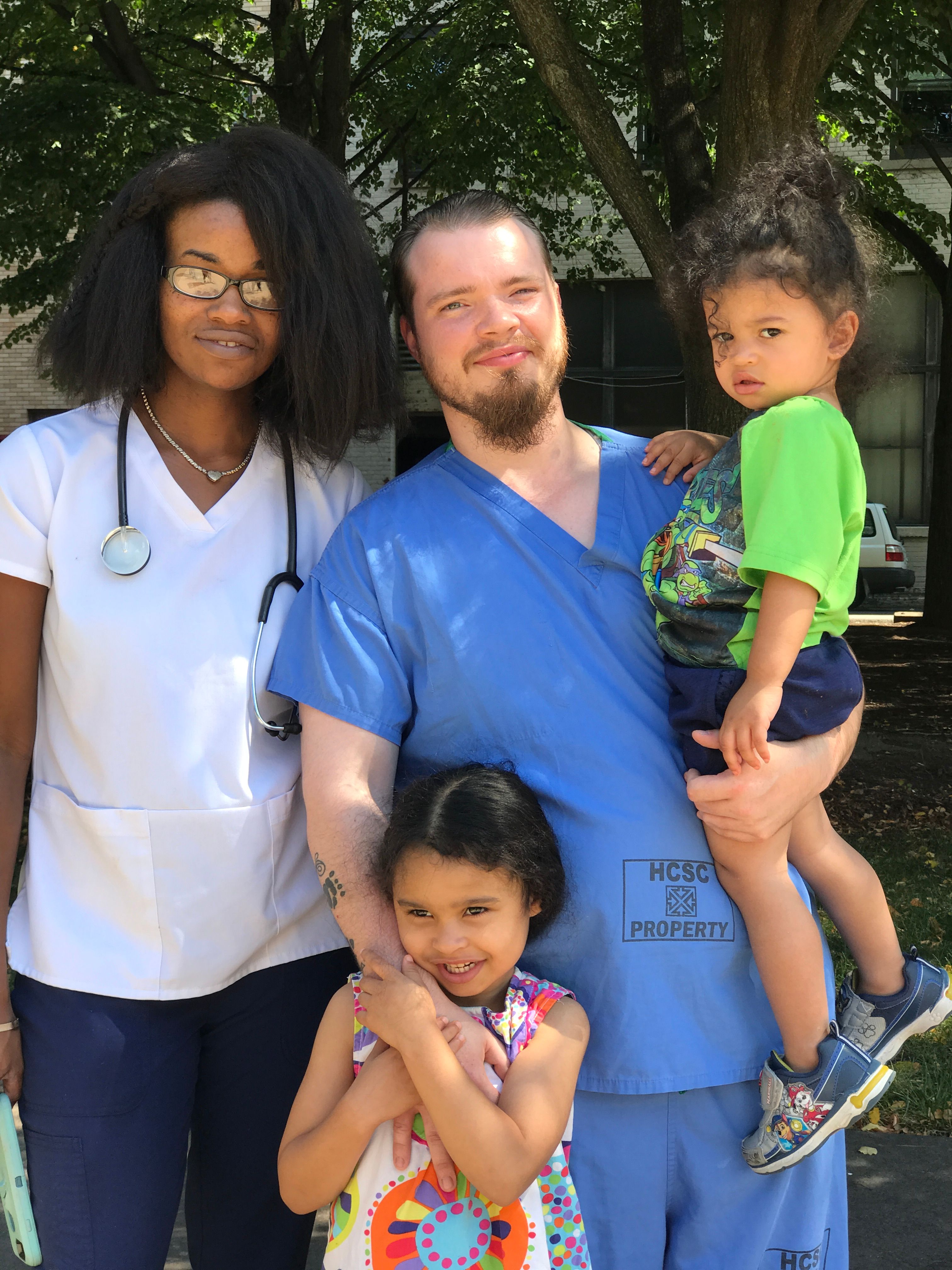 Stacy and Eugene Van Buskirk are parents of two children, daughter Ava, who is currently enrolled in Head Start, and son Eli, who is enrolled in Early Head Start. Stacy and Eugene first became involved with Early Head Start approximately one year ago when Eli was just one year old. Stacy knew about SLHDA's Early Learning Program when her younger brother was enrolled in Head Start, well before Ava and Eli were born. Motivated by her brother's experience and committed to continuous learning for themselves and their children, the family applied for enrollment at the earliest opportunity.
Pursuing that goal was not easy for them. At the time Stacey came to the program, she was not working and was in school full-time while Eugene worked evening hours as a Certified Nursing Assistant (CNA). Finances were tight for a family of four on one limited income. It was becoming increasingly difficult for Stacy to keep up with class and school work during the day. The schedule was also challenging for Eugene, who worked and cared for their children while Stacy was in class. There was little time for anything else.
Stacy and Eugene are forever grateful for the chance to be part of an agency that is so focused on supporting the family to move up and out of poverty while providing a high quality, developmental and culturally appropriate learning experience for their children. It was only with assistance from the program's education and child care services that Stacy could focus more intensely on school, knowing her children were safe and being cared for. Eugene was able to take care of himself to become a better parent and better prepared at work. Without the chance for their children to attend the agency's preschool programs and receive individualized family support services along the way, including such things as winter coats for both children, the family would not have been able to survive on their limited income or even think about reaching for their dreams.
The Van Buskirk family has taken some giant leaps to become self-sufficient in the past year! Stacy has gone through rigorous classes, graduated, passed her nursing boards, and is employed full-time as a Registered Nurse (RN) only months after graduation. Eugene has been steadfast in helping to financially keep up with the household budget, balancing work and family obligations in a new nursing position that is closer to home with better hours, and supporting his wife in all of her pursuits. Stacy and Eugene won't stop there, and they continue to work toward even higher goals. Stacy would like to go back to school in the winter to become a Nurse Anesthetist, and Eugene is excited about buying houses one day to renovate and re-sell them. As they plan for the future, they have already investigated the subsidized child care program to make child care more affordable.
When asked about her feelings for SLHDA, Stacy said, "It amazes me how the support of this organization has enabled me to be productive. Through the help of dedicated staff, I was able to achieve my goals and, along with Eugene, change the lives of our family."