Mike & Virginia Baker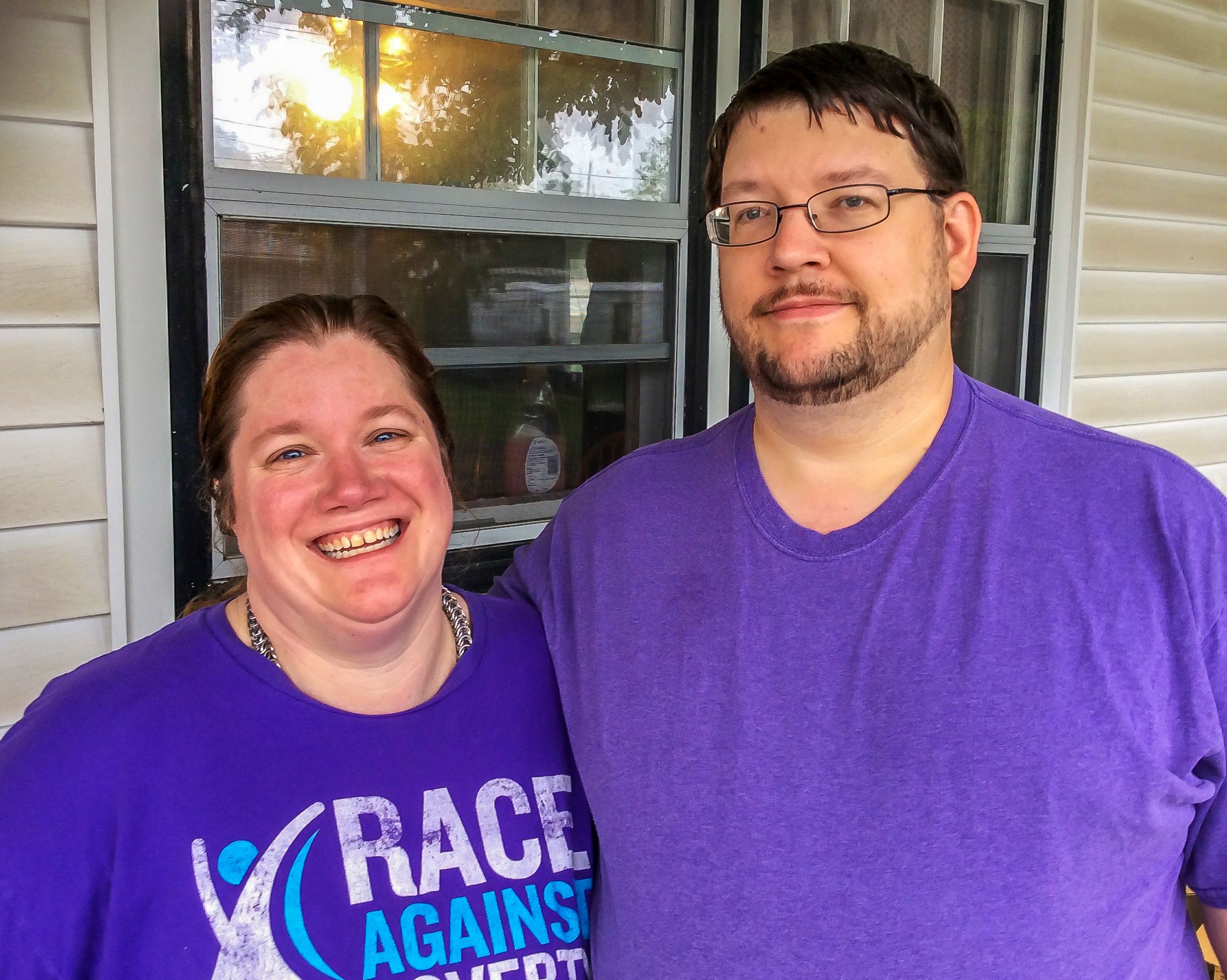 Mike and Virginia Baker both grew up in generational poverty, and Virginia's family struggled with drugs and alcohol. When the couple met in college, they quickly became inseparable and were excited about their future. Then, they found out Virginia was pregnant. The two got engaged and dropped out of college to support their little family. They got married, and, while life was a struggle, they were trying to make it work.
When they found out Virginia was pregnant with their second child, they felt they needed a fresh start with a cheaper cost of living. They moved to PA, but it did not get easier, and when their landlord sold the building, they were evicted. The young family stayed with friends and family, and when they could not find somewhere else to live, they came to SCCAP's Homeless Shelter. Once stabilized, they moved to a longer-term program. They took budgeting classes, and Virginia learned to can food. The children enrolled in Head Start, and the family moved into Section 8 housing.
Still, they wanted more for their family. With help from a child care subsidy, they were both able to work and have quality child care for their three children. With both working, they found life became more difficult. They lost housing and other supportive benefits and moved four times in two years. During this time, two of their children were diagnosed with Autism Spectrum Disorder, and their youngest daughter had learning disabilities. Amidst financial struggles, they also had to figure out how to best support their children. Every step forward resulted in two steps backward. At times it felt hopeless.
After seeing a flyer that talked about a program that helped struggling families, Virginia thought she had nothing to lose. She started attending Support Circles and going through the Getting Ahead Class. The class provided a social network for her and the children. It gave her a structure where she could start creating a goal plan for their future. Not only was Circles a place where Virginia could receive help and support, she could also provide it. She shared information on supporting special needs children and taught classes on food preservation.
In 2015, Mike's work schedule changed, and he was able to attend Circles as well. Virginia and Mike always had hopes and dreams for their family, but now they had hope that they could make those dreams come true. Their oldest daughter graduated from high school and is starting her own business. Their youngest daughter, still in school, is committed to giving back to the community by serving as a junior firefighter. Their son graduated from high school and after years of Circles participation, decided to become a Circle Leader. He was accepted into Penn State Mont Alto – a huge milestone. He finished his first year of college on the Dean's list.
The couple continued working on their credit and their goals. Mike obtained a better job and then a promotion. In discussions with their allies (supportive volunteers at Circles), a new goal arose: Mike and Virginia wanted to own a home. They worked with their allies on the loan and purchase process. After years of hard work, the couple became homeowners in April 2018. "SCCAP's programs helped us when we were homeless," said Virginia, "and now they helped us achieve something we didn't even dream we could have—Circles helped us become homeowners."
"Mike and Virginia are an inspiration, showing us all what it means to persevere through difficulties," said Jon Raber, Circles Coordinator, "and all the while being some of the most generous and encouraging people I've ever known."