Kizzy Texeira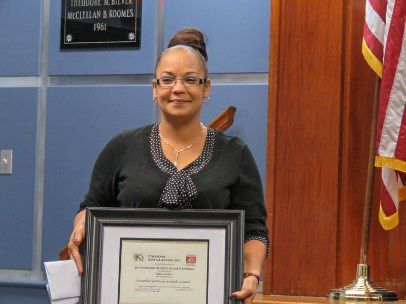 Seven years ago, Kizzy Texeira moved from Puerto Rico to Pennsylvania for a new start in life. Work was hard to find in Puerto Rico, and she had three girls, Naisha Liz, 6, Nicole Airine, 14, and Nathalie Lugo, 16, all depending upon her. She had done her research prior to the move and arrived with nothing more than a housing voucher and $500 to her name.
After staying with relatives for the first couple of weeks, she submitted her housing voucher and was immediately set up in an apartment large enough to accommodate her and her girls. But Kizzy wanted more—she had dreams of a career, a car, and a home she could call her own. She set out to research her options and while she found many paths to take, it was confusing and, in her own words, "I needed a guide to help get me there. I had a list of things I wanted to do, things to accomplish, but I didn't know where to start."
Kizzy knew her first step would be to find a good paying job, so she could make ends meet and save for her dreams. She started looking for work and applying to everywhere she could even be considered remotely qualified. She heard 'no' a lot; and, with no transportation, no degree, and being new to the area, she understood. But she was undeterred. She would have to go to school, she decided. "I didn't want to be stuck in the system for the rest of my life," she said. "I wanted to be a positive role model for my girls and show them how to succeed."
That's when she connected with Tri County Community Action. Kizzy and her case manager, Natashia Woods, made a list of goals and, in her case manager's words, "Kizzy was so determined to better her life and her situation that she would send emails to me at 3 in the morning with ideas and possibilities."
Kizzy's next big step was to set up a savings account with Dauphin County Housing, and then she enrolled in the CareerLink programs. Soon after, she landed a job at a medical billing company. There she was promoted within just 6 months, and in another year, she was the manager of her department. Focused upon her goals, and with the encouragement and guidance of her case manager, Kizzy went on to enroll in school at Penn State for her associate's degree.
When she arrived here, her goal was to purchase a home within two years so she was connected with our First Time Homebuyer Classes. Kizzy registered and attended all three of the workshops, even following up by meeting individually with our credit counselors to better understand her credit. Kizzy learned what to pay, what to dispute, and how to increase her score. Within six months, she purchased her very first home for her and her children.
Kizzy's home was recently recognized as a "People's Choice Merit Award Winner" by her local neighborhood revitalization community. She has continued to work hard toward her goals and is just one semester away from graduating with a degree in social sciences. Kizzy is also working full time as a visiting outreach specialist, providing case management to expectant mothers and families experiencing poverty.