Erica Stouffer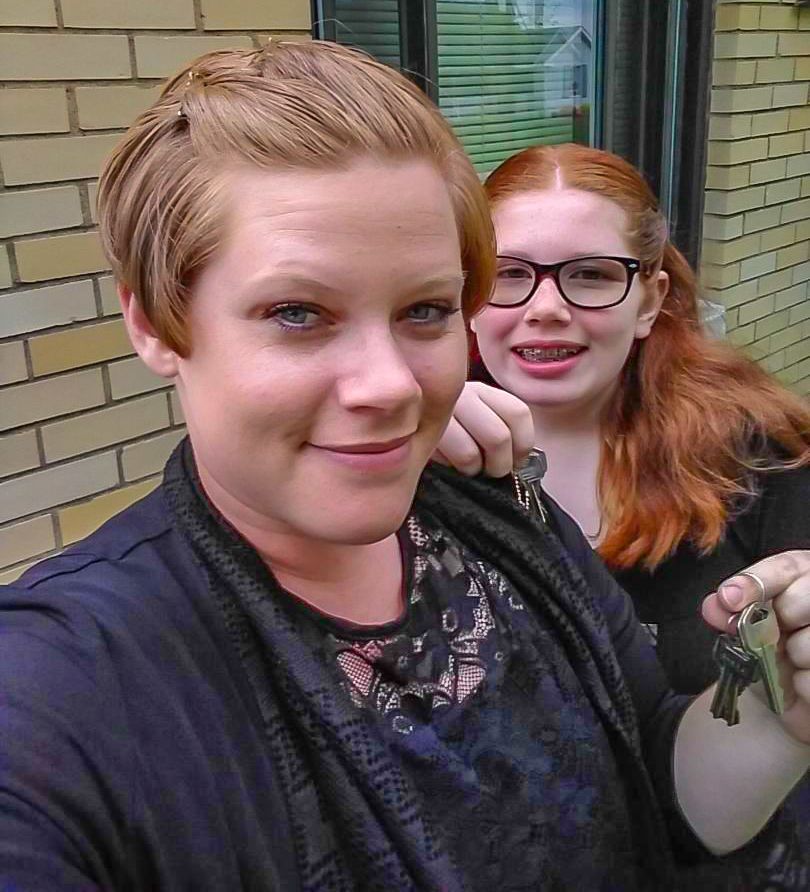 In 2005, at the age of 19, Erica Stouffer got pregnant. The birth required an emergency C-Section and caused a number of health complications that resulted in her not being able to work for about a year. She was living at home with her parents but had no income to support her or her newborn, so she applied for Welfare Assistance and Women, Infants and Children Food and Nutrition (WIC) program for her daughter Isabella. After a year of receiving assistance through Welfare, she used the KEYS (Keystone Education Yields Success) Program to attend school at Westmoreland County Community College (WCCC).
In 2006, Erica enrolled at WCCC full-time, and in 2008, she secured a part-time Work-Study position at the college. In 2008, she also became eligible for housing assistance (Section 8) and decided to move out on her own for the first time. In 2011, Erica decided to attend Mt. Aloysius College in Cresson, PA but it was not a very good match for her and her daughter. She ultimately moved back closer to home, started working a part-time job, and went back to WCCC to obtain a degree.
In June 2014, Erica received an associate's degree in Liberal Arts from WCCC. While Erica was proud of her accomplishments, she knew she needed to further her education. Soon after graduation, Erica was introduced by a close friend to Westmoreland Community Action's Mothers Making More (M3) program. M3 was created as a strategy to increase opportunities for single mothers to earn family sustaining incomes by advancing their education in targeted careers. Erica applied to the program and was accepted; immediately she began receiving guidance and assistance with returning to school. The program helped her apply to Seton Hill University in the Human Services Program and granted her one of their two available scholarships.
WCA's M3 program provided both financial and moral support to Erica through all her crises. They provided not only the scholarship, but paid for major car repairs, Summer classes, school supplies and provided a laptop computer. The program staff, especially Carlotta Paige, M3 Program Manager, was emotionally supportive and helped keep her spirits up.
In May 2017, Erica's daughter Isabella and immediate family members got to watch her walk across the stage and receive her bachelor's degree from Seton Hill University. Her twin sister cried like a small baby at the sight of her sister receiving her degree. Erica said that "this special moment was one of the proudest moments ever" in her life.
After graduation, Erica continued to pursue entry-level positions and was still working part-time jobs up until the first part of 2018. In March, she accepted an entry level, full-time position in human services and began her new career path. She continued to receive welfare benefits (including SNAP benefits) until the end of May when she was no longer eligible because of income. Around the same time, she was advised that she successfully met all of her goals for a housing program, and, at the end of May, she purchased her first home for her and her daughter.
Erica says, "Personally, I want to thank the specific programs and caseworkers that have helped guide me on my journey so far: Department of Public Welfare, KEYS Program, WIC, Housing Authorities (Westmoreland, Indiana, and Cambria Counties), Mothers Making More, and Office of Vocational Rehabilitation. Also, I would like to thank Casey Cavanaugh from the KEYS Program and Carlotta Paige for their personal support in helping me throughout the years in the programs, while attending college. I have great admiration for them both. I look up to these two women, and I am very thankful for their dedication and quality with their work. Thank you for letting me share my story."