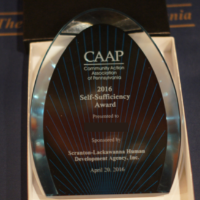 The CAAP Annual Self-Sufficiency Awards
The Awards are back virtually on November 4, 2021 from 6:30 to 8:00 p.m. ET.
Until 2019, each fall CAAP hosted the Self-Sufficiency Awards (SSA) Ceremony.  It's a celebration of our client's hard work reaching financial self-sufficiency and it honors the hard work of PA Community Action.  The SSA Ceremony is a curation of Community Action successes from around the state.  Scroll down to find those stories (previous years award winners).  Contact Charlotte Leckow for a printer friendly version.  Signup for the CAAP Update Newsletter for details.
---
Stay connected to PA Community Action!
Signup for 4 CAAP Monthly Newsletters
Follow our 4 Social Media Pages
---
The Self-Sufficiency Awards By Year
The following stories illustrate how barriers to self-sufficiency can be overcome when individuals accept the challenge of pursuing the opportunities provided by their Community Action Agency. Each year, the Community Action Association of Pennsylvania's Self-Sufficiency Awards recognize the significant accomplishments of the award winners while showcasing how Community Action Agencies support an individual's path toward self-sufficiency.
The following stories reveal the focused determination and exceptional deeds of those who have faced their own personal journey back to self-sufficiency, head on.
---
2018 Self-Sufficiency Award Winners
2017 CAAP Self-Sufficiency Award Winners
2016 CAAP Self-Sufficiency Award Winners
2015 CAAP Self-Sufficiency Award Winners