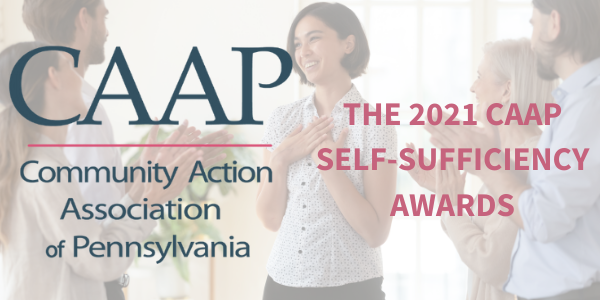 2021 CAAP Annual Self-Sufficiency Awards
The Awards are back virtually for 2021!
November 4, 2021 from 6:30 to 8:00 p.m. ET.
Until 2019, each fall CAAP hosted an in-person Self-Sufficiency Awards (SSA) Ceremony.  Being held virtually this year, it continues on as a celebration of our client's hard work reaching financial self-sufficiency and it honors the hard work of PA Community Action.  The SSA Awards Ceremony is a collection of Community Action successes from around the state. 
Please complete the following TWO forms for each nomination submitted to CAAP for the 2021 SSA Awards.
Links to submit your nominees to the CAAP SSA Awards shared drive are provided directly, along with instructions, to the leadership of CAAP's 42 member-agencies.  Registration for the event will also be provided to, and shared by, our member-agency leadership.
Scroll down to view the stories of previous years award winners.  Contact Charlotte Leckow for questions or guidance about the 2021 virtual event.
Signup for the CAAP Update Newsletter for the most up to date information on the 2021 SSA Awards Virtual Ceremony.
---
Stay connected to PA Community Action!
Signup for any/all of CAAP's four monthly newsletters.
---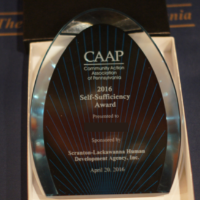 The Self-Sufficiency Awards By Year
The following stories illustrate how barriers to self-sufficiency can be overcome when individuals accept the challenge of pursuing the opportunities provided by their Community Action Agency. Each year, the Community Action Association of Pennsylvania's Self-Sufficiency Awards recognize the significant accomplishments of the award winners while showcasing how Community Action Agencies support an individual's path toward self-sufficiency.
The following stories reveal the focused determination and exceptional deeds of those who have faced their own personal journey back to self-sufficiency, head on.
---
2018 Self-Sufficiency Award Winners
2017 CAAP Self-Sufficiency Award Winners
2016 CAAP Self-Sufficiency Award Winners
2015 CAAP Self-Sufficiency Award Winners