The Pennsylvania Community Action network works at the local level to provide programs and services to help low-income individuals and their families reach and maintain self-sufficiency.
---
Find An Agency: An Interactive Map Of PA's 43 Agencies
The Google Interactive map provides details for each Agency, along with direct links to the Agencies' websites.  To view the service areas for each Agency, refer to the second map below.  To view services and programs by Agency name, scroll to the Agency listing below.
Click the Huggy Hearts for full details on the Agencies.
Map Key
Click the + and - icons to zoom in and out.  You may also use your touchscreen or hover your cursor over the map and scroll with your mouse to zoom.
Click the share icon in the upper right corner to share this page.
Click the full-screen icon in the upper right corner to enlarge the map to a full screen.
---
Agency Service Areas Map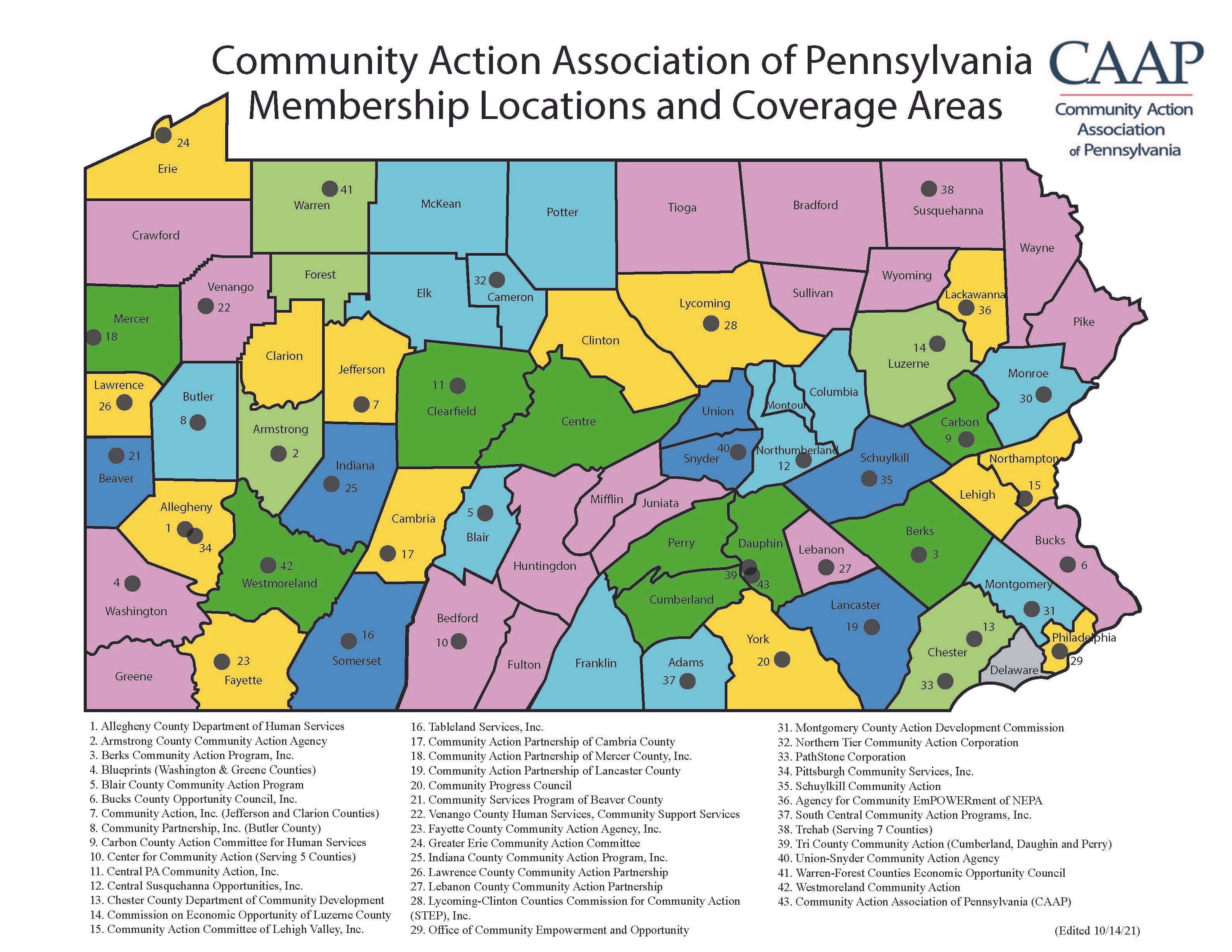 Service Areas Note: 
In Dauphin County, there are three Community Action organizations represented: PathStone Corporation covers multiple counties throughout the state; Tri County is the local Agency; and CAAP which is the State Association for all Community Action Agencies in PA (with the exception of PathStone Corporation).
In Allegheny County, there is an Agency that covers only the city of Pittsburgh (Pittsburgh Community Services, Inc. (PCSI)) and an Agency that covers Allegheny County (Allegheny County Department of Human Services).
---

View services, programs, addresses, phone numbers, and website information/links by Agency name; A listing of all 42 member Agencies.
---
Other Ways To Find Your Local Agency Info
Programs and services available at each of the 42 member Agencies (on one document)

Available from Community Action in PA. Find your local Agency for offerings near you.

There are over 1000 Agencies nationwide. NCAP will help you fine them outside PA.
---
About Our Members
There are 43 PA Agencies, each unique in their approach to alleviating poverty because their programs and services reflect the needs of the local communities. Funding for Pennsylvania's Community Action Agencies comes from a variety of state, local, and federal sources.
The federal Community Services Block Grant (CSBG) provides core funding. In FY 2018, Pennsylvania received $30.2 million in CSBG funds. For every $1 in CSBG funds, Community Action leveraged an additional $23.41 in local, state, and federal funding in FY 2018, including the value of volunteer hours.  Download the full CSBG 2018 Factsheet created by NASCSP.