The Pennsylvania Community Action network analyzes community needs to identify strategies that will work best in alleviating poverty. 
Community Action's ultimate goal is to help low-income individuals and their families reach and maintain self-sufficiency.
About Our Members
Each of the 42 agencies is unique in their approach to alleviating poverty because their programs and services reflect the needs of the local communities. Funding for Pennsylvania's Community Action agencies comes from a variety of state, local and federal sources. The federal Community Services Block Grant (CSBG) provides core funding. In FY 2018, Pennsylvania received $30.2 million in CSBG funds. For every $1 in CSBG funds, Community Action leveraged an additional $23.41 in local, state and federal funding in FY 2018, including the value of volunteer hours. View the full CSBG 2018 Factsheet created by nascsp.org.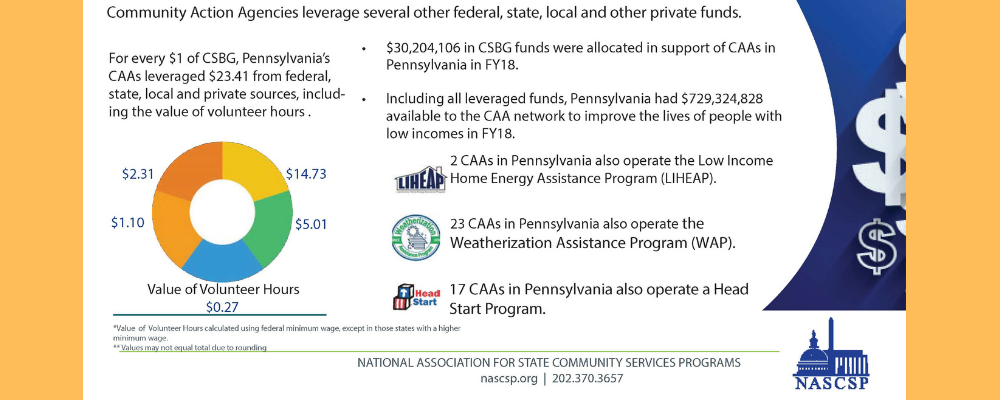 ---
Location Map
Scroll over the county you live in or are interesting in learning about to find the contact information for the local Community Action Agency. If you click on the grey dot, the map will highlight that agency's service territory. In Dauphin County there are three Community Action organizations represented: PathStone Corporation which covers multiple counties throughout the State, Tri County which is the local agency, and CAAP. In Allegheny County, there is an agency that covers only the City of Pittsburgh and an agency that covers Allegheny County.
Looking for a list of programs and services offered by each member Agency, visit our Agencies Matrix page.  Once there, click on the matrix or on the individual agency name listed on the bottom of the page.
Looking for a Community Action Agency outside of Pennsylvania for yourself or someone you know, visit the National Community Action Partnership.