Community Action, Inc. of Clarion & Jefferson Counties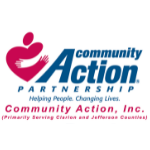 Serving the community in Jefferson, Clearfield and Clarion Counties through offices in Punxsutawney, Brookville, Clearfield and Clarian, PA.  Link to the locations.
Address:  105 Grace Way, Punxsutawney, PA 15767
Phone:  814-938-3302 or Toll Free:  800-648-3381
A list of services and programs will be added to this website page later in 2021.  Please contact the agency at the number above to learn more.