Not a single Community Action Agency "looks" the same.
How do individual Agencies choose their programs and services?
Every three years, each PA Agency conducts a "Needs Assessment" of their local communities.
This assessment informs leadership of the effectiveness of its current programs.
Determination is made whether the Agency should continue administering certain programs or implement newer, more effective services that meet the evolving nature of those in need.
---
What Is The CAAP Matrix?
The CAAP Matrix highlights the variety of programs and services offered at all 42 CAAP member Agencies in a single four-page, foldout "Matrix".  This document offers organizations, government offices and legislatures a convenient snapshot of Community Action in PA within one downloadable document.

---
More ways to find what you need:
Find Your Community Action Agency using CAAP's interactive map.
Review a list of services and programs offered by Agency name.
The Service Areas map will help you determine which Agency to contact.
Note that due to the pandemic, an Agency likely has additional services and emergency assistance available. 
Always contact the local Agency to let them know what you need. 
---
Click An Agency To Learn About Their Services And Programs
---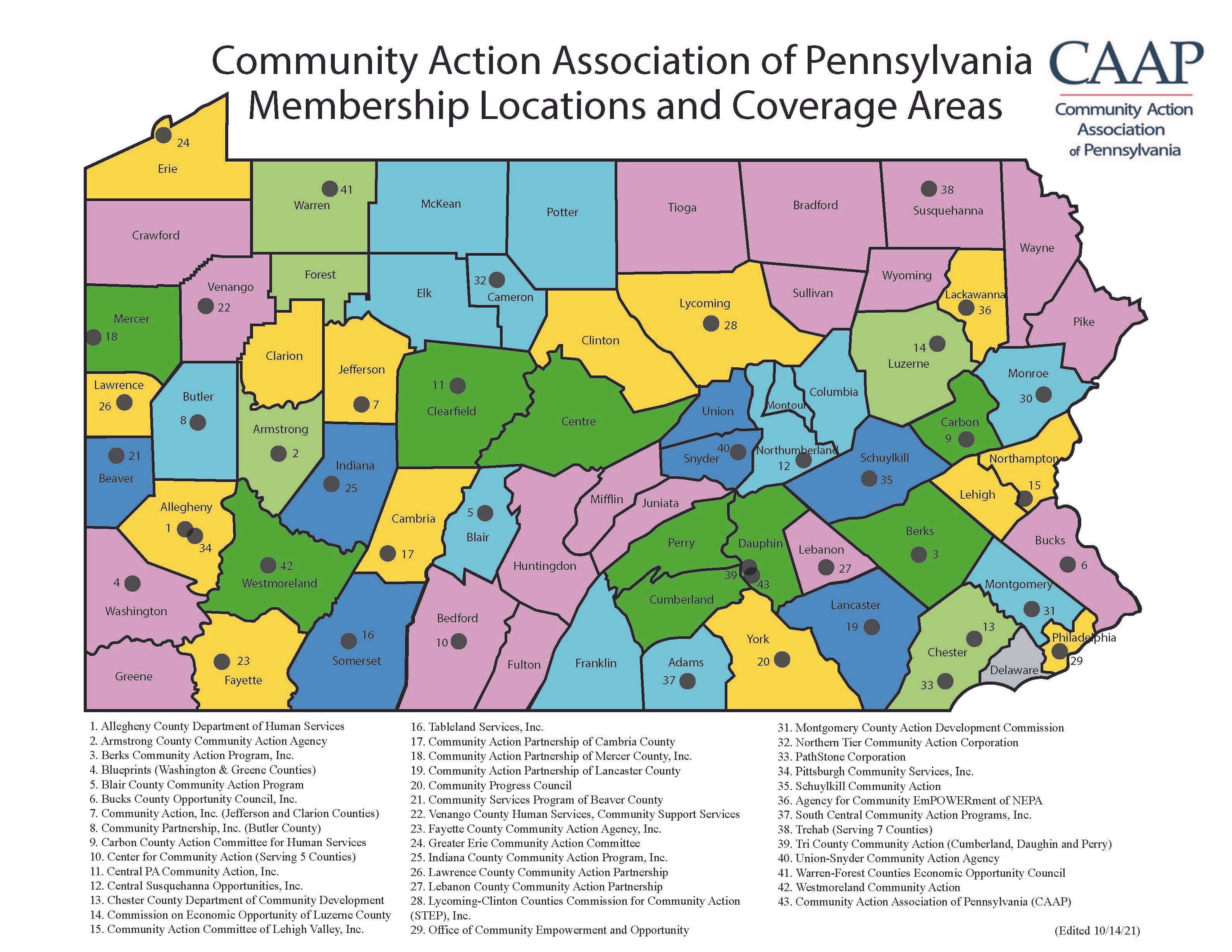 Service Areas Note
In Dauphin County there are three Community Action organizations represented: PathStone Corporation covers multiple counties throughout the state; Tri County is the local Agency; and CAAP which is the State Association for all Community Action Agencies in PA (with the exception of PathStone Corporation).
In Allegheny County, there is an Agency that covers only the city of Pittsburgh (Pittsburgh Community Services, Inc. (PCSI)) and an Agency that covers Allegheny County (Allegheny County Department of Human Services).