Programs & Services Offered Across Pennsylvania
CAAP's goal is to make your search for a specific Agency, service or program as easy as possible.  Not every Agency "looks" the same.  Each of our 42 member Agencies provides their own unique set of programs and services, based on a community "needs assessment" done every three years.
Ways To Learn More
Click on individual Community Action Agencies from the "Agency Listing" for services, programs, phone numbers, addresses and links to websites

below

.
Click the link for the "Pennsylvania Programs and Services By Category" list below.
Use the Interactive Google Map to locate and link to your local Agency website.
Visit the CAAP Matrix, which highlights the variety of programs offered at 42 Agencies across the Commonwealth in a single document.
---
Agency Service Areas Map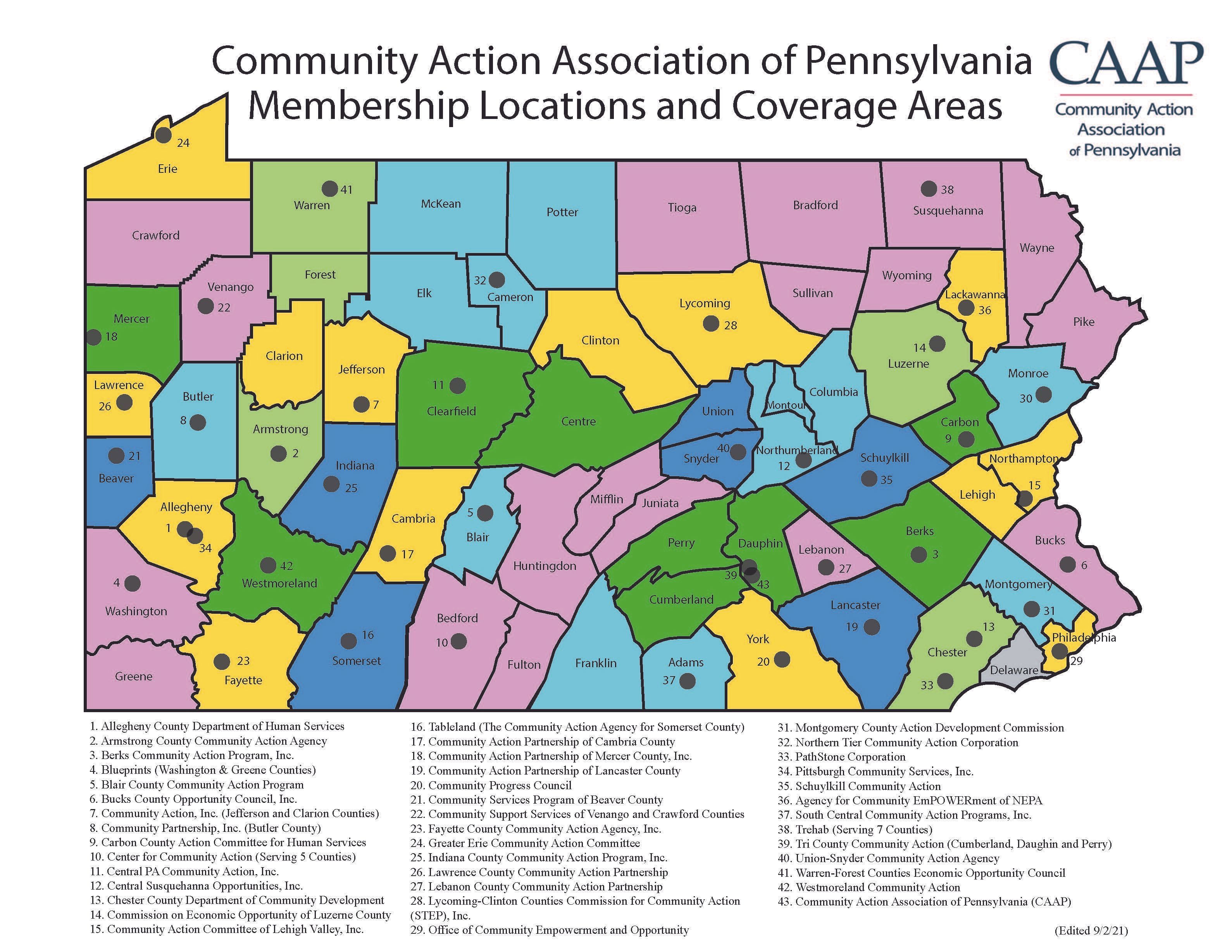 Service Areas Note
In Dauphin County there are three Community Action organizations represented: PathStone Corporation covers multiple counties throughout the state; Tri County is the local Agency; and CAAP which is the State Association for all Community Action Agencies in PA (with the exception of PathStone Corporation).
In Allegheny County, there is an Agency that covers the city of Pittsburgh (Pittsburgh Community Services, Inc. (PCSI)) and an Agency that covers Allegheny County (Allegheny County Department of Human Services).
---
A Complete List of Programs & Services
No two agencies "look" the same.  Click to review a complete list of programs and services offered across PA.  However, click on an individual Agency below to see what it offers you locally. Contact the Agency if you don't see what you are looking for.  Community Action has many partnerships in our communities and should be able to refer you.
---
Agency Listing
Click an Agency to learn about their programs and services.  Always contact the Agency for the most up to date offerings, which could include additional emergency assistance and other services.
---